Image via Wikipedia
Outside of the obvious marketing channels like PPC, SEO, Social Media – many more marketing techniques are not discussed, or used as much. Celebrity marketing and celebrity endorsements can be that different and new marketing channel for you.
The publicity and credibility that follows can be a game-changer, including powerful networking. If you are somehow associated with an A or B-list celebrity, you must be powerful yourself. By association. Makes sense. Mostly. Brad Pitt and you? Perhaps!
Interestingly enough, for business marketers that live in the entertainment capital of the world: Los Angeles (Hollywood) – it's still almost too obvious. It's like, when you live at the beach, you don't go as much as if you are located far away. Funny how that works.
Either way, there is a celebrity marketing track you can follow to make your business famous, and there are steps to take. If you want to learn about how to chose the right celebrities and marketing your business via a celebrity leverage, you have a big reason to read on. It's easier than you think.
Here are some things you should consider learning if you want to be successful:
How to link yourself to a celebrity experience
Choosing the right connections
How to get yourself, your products into celebrities' hands
How to get product placement
Using celebrity voices (voice over)
How to become a celebrity expert in the media
How to get booked on Television
Creating powerful press kits and press releases
How to get coverage in Magazines and Newspapers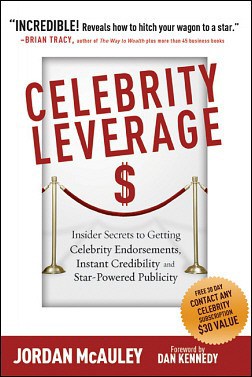 If this is something you want to try, and learn the insights to a massively underused marketing tool, take a look at this book. It's from Jordan McAuley, and it'll keep you entertained too (pun intended).
What are you doing within celebrity marketing and endorsements?
Related articles