I had the pleasure of attending the Business Success Secrets Seminars with Entrepreneur.com in Los Angeles this week.
The featured speaker was the very experienced marketer and author Mitch Meyerson with Mastering Online Marketing. (Mitch, didn't know you also play guitar, cool!)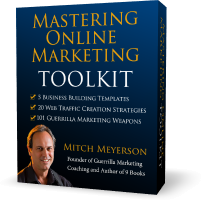 There were great tips and strategies provided. He shared key online marketing tips I totally agreed with. Many topics covered, and I wrote up a summary of his traffic tips below. (And, for readers of this SEO blog,  it has very little to do with Search Engine Optimization). SEO is defined as the effort it takes to make pages and sites search engine friendly, indexable, and to drive more traffic based on the work. Instead of spinning your wheels figuring out SEO, and waiting, start with the tactics in this post. (Then, later – start by getting a business SEO analysis first).
Here's a fact.
Internet marketing is not a skill or process the small business owner is good at. SEO, PPC, Social Media, Content, HTML, links – it's all a mystery to them. Since when was marketing 101 part of the curriculum at dentistry school? Over time, they figured out that first page ranking in Google is key. They are all wrong. Rankings  are not success. It's starts elsewhere.
Preparation before anything.
Mitch spoke about research on the 3 different sides or phases of an online marketer:
A Beginner – just starting out, a new online marketer
An Intermediate – been at it for a few years, but not really selling anything – conversions are a joke
The "Gone Pro" – Doing well, tweaking, testing to do more, well versed online
(Which one are you?)
Turns out the study puts at least 50% of all surveyed in the 1) and 2) above, and it's not an even spread either. Beginners are a large bucket in itself. That is a huge population of websites and owners not able to make it work for them online!  You need to prepare and understand your audience and competitive marketplace. Thinking or talking about search engine rankings will not fix your problem.
To prepare, make sure that you have benefits listed, advantages presented, and a clear call to action on every page. Make them simple, clean (no clutter), and provide testimonials (even videos).   Capture emails, and build your list.  Follow up with auto-responders. (Note: I now prefer manual broadcasts when I have something to say – most of the time. Mix it up, don't make it too "automatic" – you are a human).
Why Should I Buy From You (and not the competition)?
I spoke to somebody in the health care business recently. This person had a new, killer diet product. When I asked about SWOT data and real differentiators (USP, UVP = Unique Selling/Value Proposition), it wasn't clear to me. Think Google wasn't clear about their message and unique position on "access to the world's information within 1 click"  when proposing they get that first $100,000 dollar check?
Technology is only as good as the business model it supports. Gone are the days of "build it and they will come". Since SEO helps with visibility and traffic, you must start with a well researched business opportunity, understanding of customer demographics, ROI projections and website framework, or persuasion architecture as Bryan Eisenberg calls it.
Simple & fast visitor attraction tips.
To drive visitors who will likely engage more with your site, a good match from the incoming traffic, aligned with the webpage(s) in question is critical. Let's look at some ways Mitch suggests (adding a little of my own spice) we drive targeted traffic to your (growing) empire:
Add your website and/or call to action in the outgoing email. This is what's called the "email signature". Easy enough to do, right?
Say your domain out loud. Use every chance you can to market yourself. If introducing yourself in front of a crowd, for example, say "I'm Daniel with DailyWritingTips.com". Nobody does this, just think about it. And, make sure it's a domain and name you can pronounce easily, and so that folks don't miss it. Hint: get a keyword-rich domain, easy to remember.
Business cards, voicemail, handouts, brochures. Make sure you include your contact information, domain names, and distribute. Do you have a "slogan"?
Google Maps. The aging Yellow-pages is there, but it easy to get started with the Google Local Business Center (now renamed to "Google Places"). Get started for free with Getlisted.org from David Mihm and Patric Sexton. And, for $30.00 – you cant' go wrong with Universal Business Listing.
Article Submission. Create a 300-500 word article, get on a schedule, and submit to top article directories (example: ezinearticles.com, articlesbase.com, suite101.com, hubpages.com, buzzle.com). You can train a virtual assistant (VA) to help do this for a low cost. Note: Change the title of each article and introduction paragraphs, resources boxes for each article w/call to action statement and links)
Blog posting. If you don't know how to set this up on your own server, create an account on blogger.com and direct visitors to your money site. Write a press release and announce your new 'outpost', as blog squad queen Denise Wakeman calls them.
Twitter and Facebook status updates. Share information (no spamming), helpful tips and include links as appropriate. Short and descriptive is best.
PDF documents. Create a set of useful PDF's (start with one!) and place links within the document to resources, including your own destinations. Submit to document directories like Free Ebooks, for example. These documents should be easy and quick to download, and let readers know they are free to share. Make sure to include links and landing pages to help them do exactly that. Send the document to your friends, and ask them for an opinion. They will tell you(!)
YouTube videos. Nuff said. Just make sure to include your domain at the beginning of the description, keywords in titles, and no long, boring videos.
Joint venture partners (JV's). Strategic partnerships never go out of style. If you are a beginner, start by promoting others materials, and reach out with a friendly note that will help them first. Much like social media, and people in general, it's a WIIFM (what's in it for me) world.
As you can see from these 10 traffic building tips – they have 'nothing' to do with SEO (you should still keep a keyword-centric mind, and do research), and let's you test traffic strategies that focus on user intent and high value click-streams.
Finally, make sure you have included some way to track all the events. Tracking systems like Google Analytics are free, and easy to install. It's a simple script applied on all pages you want to track. Getclicky.com is another favorite.
P.S.
And, hey – don't exclude SEO, even though my headline seems to suggest it. A little amped up today – I see too many webmasters thinking SEO is a quick fix for a very poorly constructed online marketing system in the first place. Hopefully this post wakes you up a bit. Think about what you are doing currently, and what goals you are trying to reach. Take action today.